Do you have discolored teeth, gaps or spaces in between your teeth, or have a chipped front tooth?
If you don't like your smile or you want a solution for your discolored teeth or smaller sized/maligned teeth? We can transform your smile with the help of Veneers. Veneer is a thin porcelain shell that covers the front of your natural tooth surface. It's a simple procedure that is done in 2 visits. The 1st visit- we minimally prepare your teeth to fit the veneers. we then, make an impression of your teeth and provisionalize your teeth with temporary veneers. The dental laboratory fabricates your veneers within 10-14 business days.

On the 2nd visit- we cement your permanent veneers with the help of color matching resin cement.

The dentist will let you know what precautions to take while you have your Veneers. And how to Whiten rest of your teeth when you have Veneers or Porcelain crowns.
Related Dental Crown Articles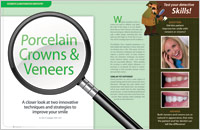 Porcelain Crowns & Veneers
A closer look at two innovative techniques and strategies to improve your smile. In many instances these two restorative techniques can produce nearly identical esthetic results, even though they are structurally different… Read Article
Value Of Quality Care
Are all crowns created equal? One of the most important factors adding to cost is the quality of the crown itself. Another fact is that dentists generally sub-contract out crown manufacturing to a dental laboratory technician, as they rarely make crowns themselves… Read Article
Creating In-Office Dental Restorations With Computers
Once upon a time, dentists – and patients – needed to wait weeks for a dental laboratory to make crowns and other dental restorations. Now, with an exciting digital technology known as Computer-Aided Design/Computer-Aided Manufacturing (CAD/CAM), some dentists are fabricating high-quality restorations themselves right in their own offices – in minutes! Read Article